Thumb Wrestling HQ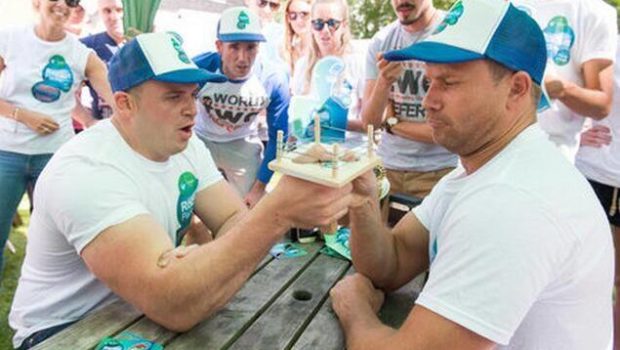 Published on August 2nd, 2017 | by UK Thumb Wrestling
0
World Thumb Wrestling Championships 2017: Its Going To Be thumb-believable!
Will a new World Champion will be crowned this week at the World Thumb Wrestling Championships in Beccles, Suffolk?
The world-famous Thumb Wrestling World Championships are back, so its time to dust off the thumb weights and get ready for the globes ultimate thumb-fest!
On August 5th 2017, international champions from across the globe are set to converge at an idyllic location near Beccles in Suffolk for the 9th annual World Thumb Wrestling Championships.
Thumb Poster
World Thumb Wrestling Championships 2015: Press Release
After 2016's unforgettable tournament, which saw first-time competitors Paul and Becky Browse pull off an incredible husband and wife victory, excitement is at fever pitch. The stars of the sport, including Jed 'Thumbertaker' Bellis and Jack 'The Gripper' Reynolds have a lot to prove after losing out to a newcomer, while the Browse's vistory has also inspired many new players to come and take their shot at the title.
Will last years Champions be beaten?
In a sport where speed and movement are as equally noble traits as power, there's everything to play for.
Paul and Becky Browse have been living a lavish lifestyle since securing the title unexpectedly 12 months ago. Rumours have been flying around as to how they have been spending their winnings. Some say they imported a luxury yacht to host late night thumb wrestles on the Norfolk Broads. Others claim they paid for a thumb wrestling school to be set up in the crypt of Norwich Cathedral. One thing is for sure, now that they have tasted success, they will stop at nothing to keep hold of this unique World Championship title.
Lowestoft's most famous thumb wrestler, Jed 'The Thumber-Taker' Bellis will be back to fight for the crown and try ensure the title comes 'home' to Lowestoft. The Thumbertaker's astoundingly powerful thumbs have garnered fame and recognition from Australia to Azerbaijan. It's believed that they've even been featured on the front cover of 'Time' magazine, and several mysterious tales abound regarding the Thumbertaker's battle hardened digits. Some say they double as allen keys. Some say they are not machine washable. All we know is, they're certain to provide one heck of a challenge for anyone hoping to try their luck with 'the Thumbertaker'.
Previous events have brought competitors and spectators from around the globe including Japan, France, South Africa and America. This year is going to be no different and crowds of screaming fans are already setting up in preparation for another electrifying night of sports entertainment.
Mark Wright from the W.T.W.C. had this to say: 'Nothing could have prepared us for the success of previous tournaments, and we can only begin to imagine how terrific this one will be. This year's tournament is definitely set to be the best so far and we're looking forward to seeing how the new venue goes down with thumb wrestling fans'
Will child protege Thumberlina return from the wilderness to take down the unbeatable Browses?
Will american past Champion James 'Tiger Monkey' Isaacs make it back from the USA to fight for his future in the sport ?
Will the local infrastructure cope with influx of fans, family and global media teams?
Come down to the 9th annual Thumb Wrestling World Championships this Saturday to find out.
There are a few places left so people can turn up on the day and still enter.
For rules, more information, to enter, and further competition details, please visit www.thumbwrestling.co.uk
All competitors must arrive by 2pm – First bouts at 3pm
See media contacts page for any requests from the press.