Latest News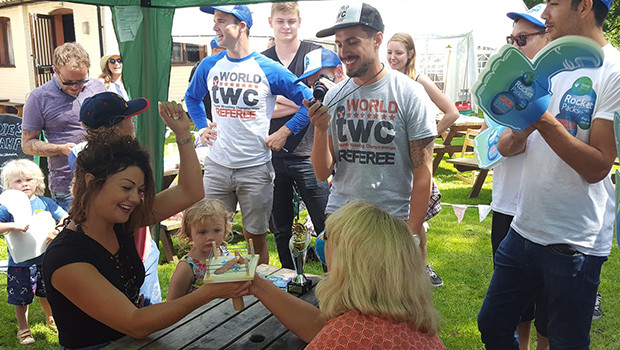 Published on August 7th, 2017 | by UK Thumb Wrestling
0
The 2017 World Thumb Wrestling Championships Event Round Up
The dust settles on the 9th World Thumb Wrestling Championships and the Locks Inn, Geldeston still echoes with the sounds of triumph.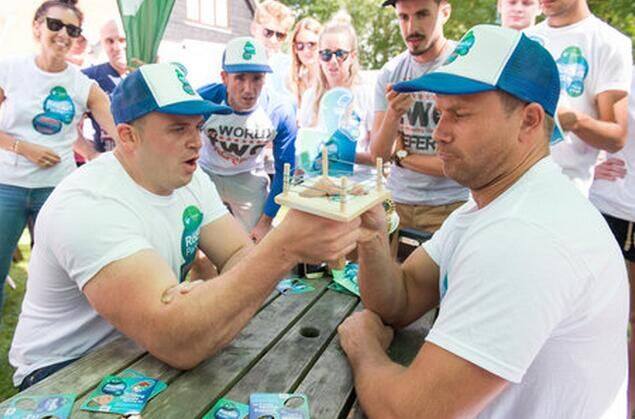 On a gorgeous summer afternoon at The Locks Inn, the new home of World Thumb Wrestling, located near to the town of Beccles in Suffolk, the worlds best thumb wrestlers descended on what was one of the most hotly contested championships to date. The World Thumb Wrestling Championships pulls in competitors from all four corners of the globe and this year we were proud to welcome contestants from as far as America, Poland, Germany, Australia, India, and South Africa.
Hundreds of spectators were captivated by round after round of thumb-to-thumb combat of the highest order, in what turned out to be a landmark year for skill, technique, and pure sporting excellence. The big question this year was whether surprise 2016 mens' champ Paul 'Under the Thumb' Browse could hold on to his title, or whether he was a one-digit wonder.
After a year's training and soaking up the lifestyle of a world champ, Paul arrived cool and collected, and dominated the early rounds. Ex champs came and fell as crowd favourite Jed 'Thumbertaker' Bellis and Reading's Ian 'Thumb Ra' Korner both exited in the semis.
In the end, the mens' final came down to two titanic competitors: Paul Browse and new-thumber Tom 'Young Dumb and Full of Thumb' Wright from Hull, East riding, England. Both were exhausted from the many battles behind them, but both pulled out a spectacular performance befitting the final.
Sun's Out, Thumbs Out
With a beautiful sunny day and the idyllic surroundings of the Geldeston Locks, a good day was all but inevitable, but the competitors still surprised us with their enthusiasm, sportsmaship, and dedication.
In the 9 years we've been holding the WTWC, we have rarely glimpsed prowess like that on show at the 2017 championships. After three rounds of all-out athleticism and stunning strategy, Paul 'Under the Thumb' Browse was crowned champion for the second consecutive year.
As Tom Wright is the brother of our very own head referee Mark Wright, Mark was forced to recuse himself from proceedings and give up the referee's cap. Still in his trademark dark glasses, Mark cheered on his brother, but sadly, even this heartwarming backstory wasn't enough to overcome the might of Paul Browse's double-championship-winning thumb.
There was no less drama in the ladies' event. Eventual winner Becca 'Thumby Thumbkinstein' Anne from Gillingham in Norfolk, England told us 'I had been in training for about two weeks prior to the event, practicing thumb exercises and working on my strategy. I'm glad it paid off and I'd like to thank my boyfriend Greg Lake who without his support this achievement would not have been possible.'
Becca dominated a packed field, with returning champ Jennifer 'Thumberlina' Cripps-Fuller very nearly recapturing her crown as well as a host of new challengers. The ladies' event is fast becoming as competitive as the mens' tournament, possibly spurred on by the double success of the Browses last year.
Thumb War is Going Global in 2018
This year's prizes of £100 were kindly donated by our 2017 sponsor KidsElectricCars.co.uk, the best place to buy a stylish electric car for your kids to drive themselves.
Next year is the 10th anniversary of the world thumb wrestling championships where we are excited to announce the event will be filmed and streamed live to a worldwide audience as W.T.C has now gained a cult following in Asia and America. We have now entered into agreements that mean the global audience who cant make the event in person don't have to miss out on this incredible event.
Amid the buzz around this year's championship, W.T.W.C. has been inundated with offers for the W.T.W.C. team to hold special thumb wrestling events from a wide range of international partners. The W.T.W.C. team are even in Hong Kong next weekend holding a Hong Kong masters tournament.
So please don't worry if you can't attend the 2017 World thumb Wrestling Championships. The W.T.W.C. may well be coming to a country near you soon. Time to get those thumbs working Thumb Wrestling fans!
Mark Wright, Official W.T.W.C. Match Referee said:

' Paul 'Under-The-Thumb' Browse was clearly determined to land his second title and we learnt that he had been on a rigorous training regime for the whole year. Apparently he has been challenging everyone he meets, and there are even rumours that he has been participating in shadowy bare knuckle bouts in Great Yarmouth.'
'This hard work clearly paid off for him and he now makes his journey up from Lowestoft all the more worth it. We look forward to seeing him try to make it the hat trick next year when we expect the event to again be held at the new mecca of thumb wrestling at The Locks inn at Geldeston'
Rory Van Bellis, Head of the World Thumb Wrestling said:
'We were delighted to take the World Thumb Wrestling to the Beccles area again this year and once again the hosts at the Geldeston Locks were very accommodating. Such an oddly idyllic location for a such a hard fought battle. This year was bigger and better than ever with a major national sponsor on-board in KidsElectricCars.co.uk. We would like to thank them for helping to make it such a great and memorable contest.
'For Paul Browse to come back and win a second time is astonishing. It's like watching a young Mohammed Ali or Ronnie O'Sullivan arrive on the scene and transform the sport. Big Well done to Under-The-Thumb and to Thumby Thumbkenstein. The womens' title was if anything even more hard-fought than the mens' and we're starting to see some serious female competitors'.

If anyone wants to buy official merchandise or if you want to throw your thumb into the ring and commit to entering to the big 10 year anniversary 2018 event, this can be done at The Thumb Wrestling Store.
Winners contact details for Media organisations
2017 Mens World Thumb Wrestling Champion – Paul 'Under-The-Thumb' Browse from Lowestoft, Suffolk, England – Call on: 07525 916 743
2017 Ladies World Thumb Wrestling Champion – Becca 'Thumby Thumbkenstein' Anne from Gillingham, Norfolk, England – Contact us for contact details
World Thumb Wresting Spokesperson: 0044 [0]1502 797007 or please email info @ thumbwrestling.co.uk