Thumb Wrestling HQ Published on July 30th, 2012 | by UK Thumb Wrestling
0
2012 Championship Round-Up

2012 Thumb Wrestling Championships Hits the big time in front of biggest crowd yet!
Once the Cameras had finally stopped rolling on the biggest and best Thumb Wrestling World Championships yet, there where some very happy supporters and some very sore thumbs.
This year saw the best 30 thumb wrestlers in the world, plus the 2 celebs battle it out to be crowned the Mens or Ladies World Thumb Wrestling Champion. With stage names such as; Thumb and Coke, Thumb-erlicious, Thumbderbolt and Thumb-Down there was a wealth of creativity on show and thumb wrestling of the highest order as well.
The event was being filmed by IWC Media for Channel 5 program 'Rory & Will Champions of the World' which will be screened in the autumn. The celebs arrived in their morris miner a few hours before the event thumbed off to get a feel for the town, to be coached by past champions, to choose their stage names [Rory – thumber-of-love, Will – thumble in the jungle] and dress their thumbs for the occasion.
Scotland's 'Flash' goes one step further and secures the Men's 2012 Thumb Wrestling Title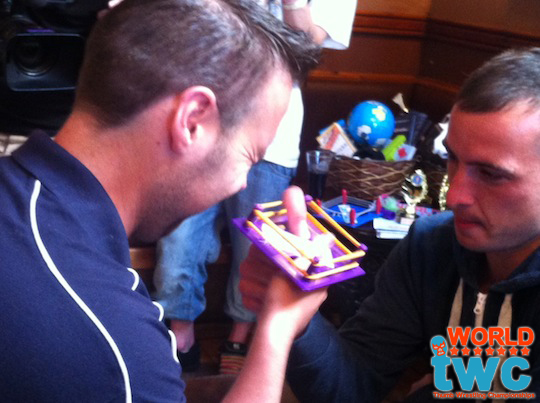 The Men's championship final was won in 3 rounds by Scotland's Graeme 'Flash' Cunningham, who had lost out in 2011 final to The Cobra from London but this time he pulled off a great last second pin to beat local favourite Mort, aka, Thumb 'n' Bass. He was a deserved winner and the crowd warmed to his trademark thumb wrestling technique of playing with his eyes closed and using his sense of movement, instead of sight. He leaped in the air with joy once he secured his first title and told organisers: 'I didn't care about the 600 mile round journey, I had unfinished business from last year and had been putting in the practice ready to go one step further this year. I am so pleased that I managed to do that, there were some strong competitors including the celebrities, but it just goes to show if you put the work in and belief in yourself you can achieve your goals. Lets get thumb wrestling in the 2016 Olympics. I'm glad to go one further than Andy Murray did at Wimbledon and grab a title to bring back home to Scotland'
Norwich's 'BIG Digit' Brings title back to Norfolk's capital in a blaze of glory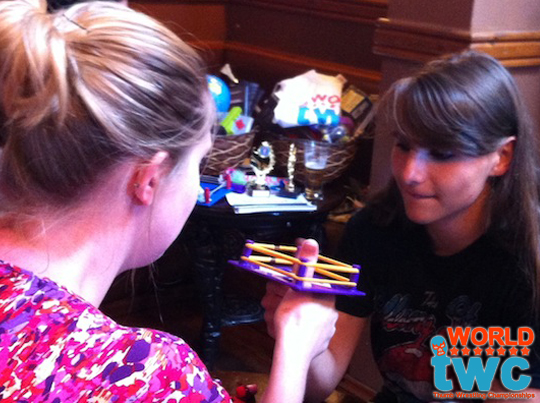 The ladies tournament was won by first time entrant BIG DIGIT [Norwich] after a very close final with New comer and local resident Thumb Raider [Lowestoft]. Previous champions and crowd favourites Fancy-a-thumble & Thumberlina had gone out in the semis, showing what a strong field it was this year. BIG Digit spoke with Rory Bellis the Ringmaster soon after clinching the title: 'It was a really tough battle, but in the end the months of hard-core training and a fine thumb-wrestling technique paid off. I am just so happy to be thumb wrestling champion of the world and to be able to put Norwich back on the Thumb Wrestling map after my idol 2009 winner Megabecks last brought the title back to Norfolk'.
Rory & Will Crash out in the Quarter Finals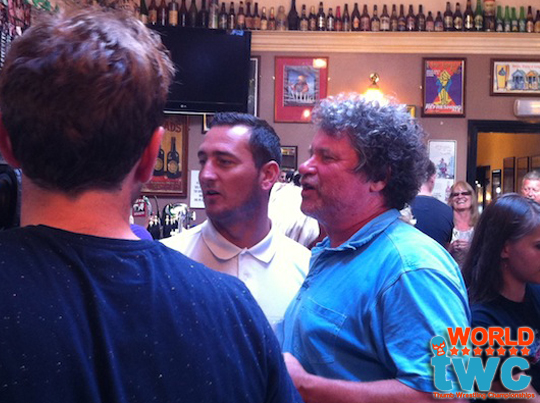 The celebs where in very good spirits all day and helped the 100+ crowd to get in the mood for such a mojor sporting event. Unfortunately, neither made it to the final, but they both put in a really good show and managed to get to the quarter finals. Rory McGrath said, 'What a great day, thanks to the organisers and hosts. I look forward to coming back to Lowestoft again soon as its not too far from my home in Cambridge'. Whilst Pin-up hunk Will Mellor who launched his career in Hollyoaks, said i'm really impressed with Lowestoft, the people are nice and the ladies are really nice. I've been here before for a good night out and i'll be doing the same after the thumb wrestling championships. Its a shame not to make it to the final, but it is clear that these guys are true pros and I don't feel I put the required training in to get to the final. Maybe next year though!'.
Big thanks go out to the event sponsors TheRandomShop.co.uk who again helped to pay for the events costs and supply the massive goody box of prizes. Likewise a big thanks to the hosts The Triangle tavern and Lowestofts Green Jack Brewery for supplying the ale. 2013 is already being talked up as a bigger event that 2012!
Men's & Ladies World Thumb Wrestling Champions 2012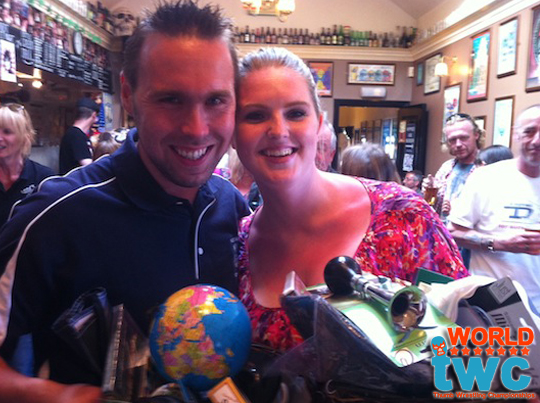 World Thumb Wrestling Media Contacts
Event organisers email: info @ Thumbwrestling.co.uk
Rory the Ringmaster [W.T.W.C.]: 0845 2712825
Mens Champion – Graeme 'Flash' Cunningham: 07824341287
Ladies Champion – Dayna 'BIG DIGIT' Hunt: 07921871075 – daynahunt@hotmail.co.uk
Triangle Tavern [Thumb Arena] Jockey Wilson – 01502 582711
Image Request: Thomas – two.tins@gmail.com or view royalty free image page