Jed 'Thumbertaker' Bellis
2010 winner and 2009 finalist Jed 'Thumbertaker' Bellis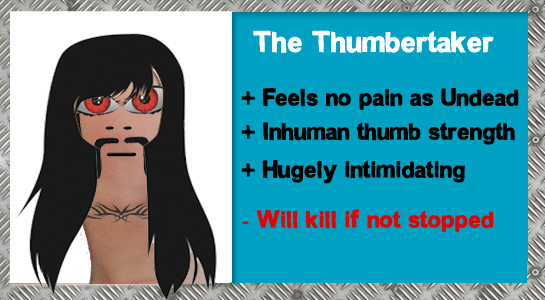 One of the original forefathers of the thumb wrestling world made a big impact in 2009 & 2010.
Lowestoft based 2010 Champion Jed "The Thumbertaker" Bellis is not to be trifled with. Two years ago The Thumbertaker took the title in his hometown, leaving all other digits in the dust. Since getting knocked out in the 2011 semi finals on his route to defending the title, no one has seen the dark destroyer. He is rumoured to be lurking in the shadows of Lowestoft and some say they catch glimpses of him in New Look, browsing black eye pencils and mascara.
Whatever the truth, The Thumbertaker is rumoured to be returning for the 2013 tournament. His deadly thumb jabs have been known to bruise opponents and his return will surely see some tears of pain shed. Join this years tournament to face the thumb of hell!
Read about The Thumbertakers 2010 victory in the Telegraph