Flash
Flash Aaaaahhhhhhh!!!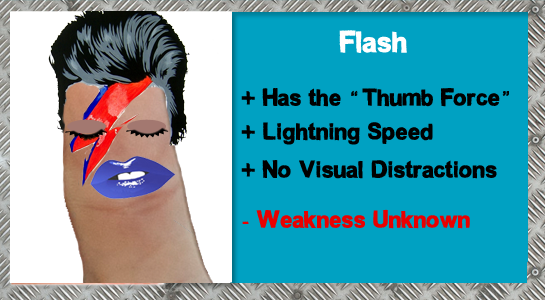 Graeme 'Flash' Cunningham was crowned 2012 champion after a thrilling road to the final. The posterboy of modern thumb wrestling, Flash is the ultimate champion playing on senses alone by closing his eyes. Many opponents are fooled into thinking they can't possibly lose to someone who chooses not see, yet every thumb has fallen in his wake.
Flash has made the big time since winning his title with media outlets across the country scrapping over 5 minutes with the champion. Men across the world are training their thumbs in preparation to be drawn against Flash this year. Rumours are The Cobra is ready to make his comeback after failing to appear last year due to injury. The Cobra is the only thumb to ever defeat Flash, so prepare for foundations to be shaken if these two titans meett again.
Watch Flash v Cobra back in 2011 below: