Thumb Wrestling HQ Published on August 3rd, 2014 | by UK Thumb Wrestling
0
Round up: Big Digit Retains Ladies Title, With a New Mens Champ This Year
Read the round up of the 6th world Thumb Wrestling Championships which took place in Lowestoft on Saturday the 2nd of August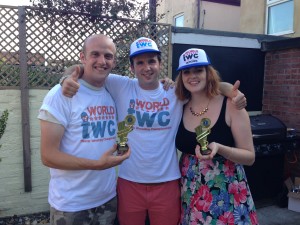 On a warm summers day in Lowestoft the worlds best thumb wrestlers descended on the Stanford Arms in Lowestoft for what was one of the most hotly contested championships ever.
Dayna 'Big Digit' Hunt from Norwich, England became the first person in the history of the sport to complete the 'triple-crown' with a hard fought win over Jayne 'the hookleberry' Smith from Wales, thus securing a total of 3 championships successes and therefore ensuring her name is forever etched in the history of this increasingly popular sport.
Soon after her 2-1 win in the final, she spoke to the crowd via the events compare: 'thank you for all my support, i was really feeling the pressure this year as i knew winning the championships 3 years in a row was going to be extremely hard work. I've been putting in the extra training and its paid off. Sports science played a big part in my success this year, but thats all going out of the window as im going to celebrate this win like no other before. I'll be back next year, i dont ever want to lose 'my' title.'
The mens championships saw two former winners returning to Lowestoft to try and reclaim a title which was once theirs. The crowd favourite, Lowestoft based 2010 thumb wrestling champion Jed 'The Thumber-Taker' Bellis along with the ever popular london based 2011 winner Luke 'The Cobra' Sears were firm favourites and both did reach the semi-finals. However, 'The Cobra' slithered out in his semi-final bout with the eventual 2014 winner, this years dark-horse, Brad 'Thumb-thing kind of wonderful' Collins from Norwich. He performed extremely well and was a deserved champion. Brad, aka 'Thumb-thing kind of wonderful' who spoke to Thumb Wrestling News after his success said: 'I think i benefited from being an unknown quantity, a lot of the crowd were focusing on past winners who were great competitors, but i've been secretly training for this championships for weeks and i had a feeling that if the draw fell right for me that i could be in with a shot at the title. To win the final 1-0, after such a grueling match against 'The thumbertaker' felt amazing. I shall look forward to this year of being the official world thumb wrestling champion and all the kudos and glory that it shall hopefully bring'.
The Thumb Wrestling Championship website will be updated over the coming weeks with photos, articles and videos from this year championships. A massive thank you to all competitors and all spectators, who helped to make it such a great championships. Lastly, a mega thank you for the prizes generously supplied by lovelowestoft.co.uk the tourism website for Lowestoft in Suffolk.
Thumb Wrestling Championships – Media Contacts
2014 Mens Champ – Brad 'Thumb-thing kind of wonderful' Collins from Norwich, England – 07446 957602
2014 Ladies Champ – Dayna 'Big Digit' Huntfrom Norwich, England – email (daynahunt@hotmail.com) and phone (07788274892)
World Thumb Wresting Spokesperson: 0044 [0]8452712825