Hold An Event
Would you like to organise a WTWC-affiliated National Thumb Wrestling Championship in your country?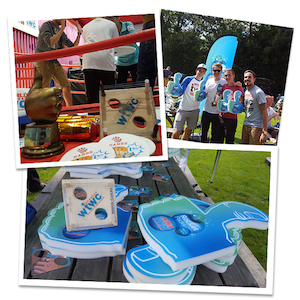 The World Thumb Wrestling Championship is growing bigger every year. As well as growing in scale, with more entrants than ever before travelling from around the world, we are also attracting larger and more influential sponsors, further raising the profile of our sport. The 2016 Championships were sponsored by Tesco Mobile Rocket Packs, and the 2017 sponsor is about to be announced. With major corporate sponsorship comes increased global exposure, and we've started getting requests from all over the world from people who want to organise WTWC-approved national events.
With this in mind, we are pleased to unveil our new licensing program, which is designed to help people from all over the world to share in our success. By purchasing one of our licensing packages you will be able to hold your very own, fully accredited Thumb Wrestling Championship.
If you'd like to stage a national or regional championship, we offer a range of licensing options. A WTWC license allows you to organise and advertise a full scale tournament and use WTWC branding and equipment. As well as Official Thumb Wrestling rings, marketing materials, and merchandise, we will also provide a full WTWC judges' regulation manual. However, if you want to ensure your tournament is fully World-League compliant, we can also make arrangements for one of our accredited referees to travel to your location and oversee the contest.
As well as giving you all the official equipment and information you need to run a fully WTWC-compliant tournament, we can also arrange for Thumb wrestling celebrities including former mens' and ladies' champs like Thumbertaker, Jack the Gripper, and Thumbelina to make an appearance and perform in exhibition matches or assist with commentary.
We insist that all WTWC branded events conform to the same high standards, so we'll need to hear your proposals and evaluate venue and marketing before granting your license. Once everything is in order, you'll be granted an exclusive license to hold an accredited national championship.

So if you want to hold a WTWC accredited national Thumb Wrestling Championship, get in touch with us today and we'll take you through the details of our licensing program.