Hire Us
Thumb Wrestling is a sport that generates excitement, promotes respect and encourages healthy competition.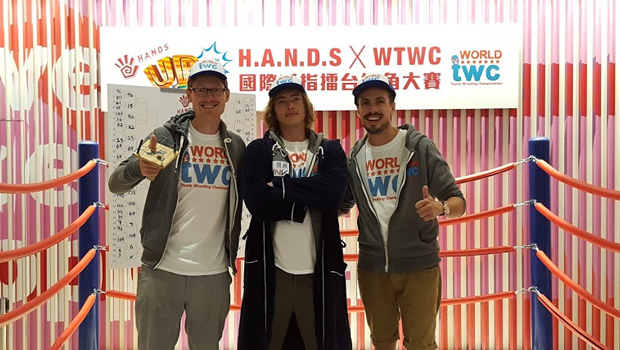 You can hire the TWTC to organise and run your very own Thumb Wrestling championship, perfect for PR events, corporate team-building and entertainment, or even private parties and festivals.
If you're looking for events which can boost your brand, then a WTWC approved thumb wrestling contest is a great way to create associations with good, honest fun and a quirky sensibility, all while promoting old-fashioned sportsmanship.
Some of Our Previous Clients:

What you'll get when you hire us here at WTWC:
If you hire us to put on a WTWC Thumb Wrestling event, we'll provide the full experience, from official merchandise including caps, hoodies and T-shirts, to prizes, trophies and certificates. Our referees will be on hand to keep things running smoothly and provide colourful, entertaining commentary, while competitors will be battling it out in replicas of the beautiful official world thumb wrestling ring, hand made by our resident master-carpenter Nick Hanington.
If you hire the TWTC, we make it our mission to give you an unforgettable, inspiring and unifying experience, which is why we provide everything you need, including:
TWTC staff, including referee, assistants and a former champ to provide commentary
Official TWTC rings, handmade to world competition specs
Official merchandise to help build atmosphere and provide souvenirs
Thumb Wrestling character creation kits
Trophies, participation certificates and other prizes
Professional quality photo and video of the event to help in your own promotional activities
We've managed to turn thumb wrestling into an event that has a major PR impact. We recently provided the WTWC experience to the H.A.N.D.S. super mall in Hong Kong. Not only did this event lead to a thrilling weekend of sport for hundreds of people, but it also generated significant media reaction. The event was featured in coverage from major TV stations including B-TV and Apple News, and in the national and local press, including prominent reports in the South China Morning Post and am730 magazine. Please Contact us today to inquire about hiring the W.T.W.C. for you or your client.
If you're a corporate client looking for a novel team building event or corporate entertainment package, a WTWC event is the ideal solution. As well as being hugely entertaining, a thumb wrestling event promotes a spirit of respect and healthy competition, and really brings people together.