Thumb Wrestling HQ Published on August 4th, 2013 | by UK Thumb Wrestling
0
2013 Championship Results

2013 Thumb Wrestling Championships Hits the big time in front of biggest crowd yet!
Once the Cameras had finally stopped rolling on the biggest and best Thumb Wrestling World Championships to date, there where some very sore thumbs, a lot of smiles and two happy people. One came from Norwich in Norfolk and one came from california in L.A
Norwich's dayna 'big digit' hunt managed to thump all those who dared to get in her way and wrestled the title back to Norfolk in England once again and claimed the trophy and massive prize goodie pack. This makes her the first person in the events 5 year history to retain a title.
The men's side of the draw was jam packed with quality thumb wrestlers from all corners of the globe. The current champion Graeme 'flash' cunningham from Scotland went out in after a close battle in the semi's with Obi-Thumb-Kanobi. The eventual winner was California's James 'Tigey-Monkey' Issacs, who beat obi-thumb-kanobi in a no time limit, winner takes all sudden death round of thumb wrestling. A super quick pin [tigermonkey actually took the world record for a thumb pin in 2.2 seconds in an earlier heat] from tigermonkey took the title after 3 stalemate rounds.
James had a film crew with him after his idea of coming to the championships after he raised over $12,000 to create a doc-movie about his participation in the event from crowd funding website Kickstarter. Tis movie will be out later in the year, so please check back to ThumbWrestling.co.uk where we will be the first to know about its release date.
He now expects to do the Letterman and the test of talk show circuit in America and generally be a great bastion of the sport until he needs to retain his title on August 2nd 2014 at the triangle tavern in Lowestoft, UK.
Rory Van Bellis [Head of the World Thumb Wrestling Championships] says 'This was by far the biggest and best world championships yet. So many people came from so many different places, with the one thing in common was the enjoyment of the sport. We are glad to have our first American winner, and certainly please that Big Digit managed to keep one of the titles on these shores. It was great for the Town of Lowestoft to again be the centre piece of a world championships and as always we like to thank jockey and all the staff at the Triangle Tavern for being such great hosts. We look forward to seeing what 2014 brings with the expected massive increase in popularity of the sport'.
Mens 2013 Tumb Wrestling Champion of The World – James 'TigerMonkey' Isaacs From U,S.A.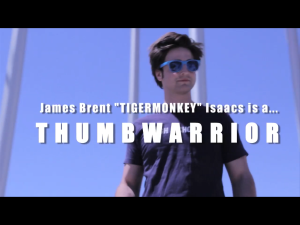 Now this American thumb wrestler was very good indeed. He had clearly been practicing and as with all things in life practice makes perfect and this was a near perfect performance from the TigerMonkey. He made a movie about his coming to Lowestoft in England to compete against the toughest thumbs the world knows and its going to be called ThumbWarrior, which is due for release later in this year. Keep your eyes peeled and your thumbs ready for that box office success.
Norwich's 'BIG Digit' Retains title to keep it in Norfolk's capital, Norwich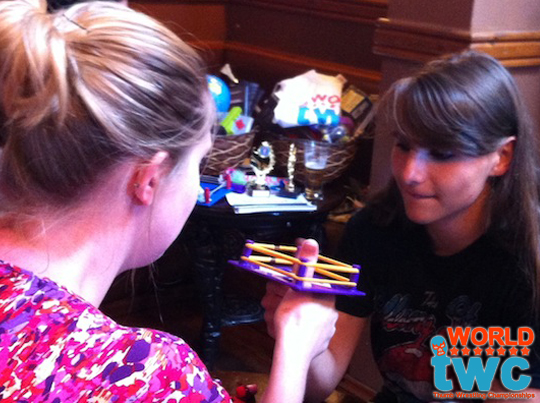 World Thumb Wrestling Media Contacts
Event organisers email: info @ Thumbwrestling.co.uk
Rory Van Bellis [Head of W.T.W.C.]: 0845 2712825
Mens Champion – James 'Tigeymonkey' Isaacs: +1 (310) 721-8073
Ladies Champion – Dayna 'BIG DIGIT' Hunt: 0044 (0)7788274892 – daynahunt@hotmail.co.uk
Triangle Tavern [Thumb Arena] Jockey Wilson – 01502 582711
Image Request: Thomas – two.tins@gmail.com or view royalty free image page